First show of the Fall is on Sept 20 ,2020 in Mineral Va.
As we all know all shows have been cancelled because of Covid 19,From March to August 2020 Feb15,2020Farmers Market OlD BeACH Art Market Va.Beach .Va.19. Th and Cypress.
ARE fair 67 th.st, VaBeach Virginia.Feb29.2020
Handmade Spring Craft Market at 19th st .Convention Center.March6-8,
Treasures of the Earth Gem Show in Richmond Va.March 16-18
Heart of OneNess in Edison NewJersey March 25 -27 and theirs more coming.
Farmers Market Old Beach Art Market Nov 16 Va Beach.
Edgar Cayce Center In Va .Beach Va.Nov 23,2019 Holiday Pyschic Fair.
The Natural Living Expo in Marlboro,Mass.Nov9-10
Empowered alight Holistic Show in Oaks Pa April 26-28;2019.
O'Conner's Brewery Spring Crafted market April13 Norfolk Va.
Illuminate Frederick April 14th -Jus Finished Illuminate New Jersey
And pathways was April 7 ,2019.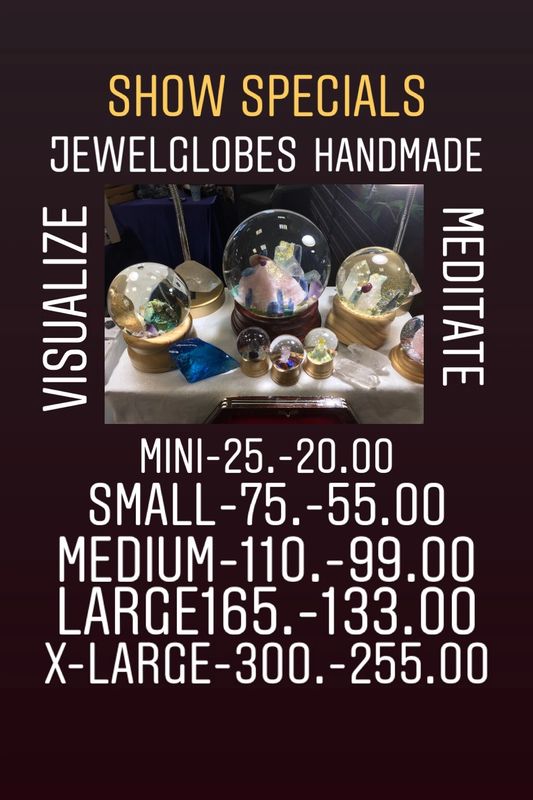 January 14-2019 Mineral Monday at GoodVibesWellness and Spa ,at the ocean front .
Fairfax Va.January 20 Th.,2019 ,The Illuminate Show.


New and Upcoming Shows for 2019 and New Designs With a light all copyright materials.
Shows out of state for 2018 were in Md.Calif,NC,Sc,Sedona Ariz.Celebrate your life.In Ariz.Fairfax ,Mind Body Spirit Shows ,Illuminate Show,Treasures of the Earth ,Holistic Art Show in VaBeach.Va.


Taking phone orders as well 757-401-0233
Next up is LynnHaven Mall in Va beach Va ,Stating this Friday Dec.7-9 and every weekend following till Christmas Eve .I will have Lots of Globes and other Great Handmade items for the Mall.Looking forward to seeing you.Please call for orders or come visit me I will be at the LL Bean entrance facing Old Navy with a fellow vendor selling Sterling silver Jewerly ,Designed by himself is Jon Michael.


M.O.C.A . Mueseum of contemporary Art.spreading good vibes for the Holidays and lots of beautiful Globes.was a Success


Rusty Cottage Nov30 MOCA mueseum Dec1.
Created in 1989, in Burbank California. Christial Balls©️
One of a kind:

Each sculpture is Handmade with love.
Customers:Started on the West Coast 
Sold to many stores in LosAngeles,California,and now selling on the east coast.

 I work with The Edgar Cayce Gift shop.I attend lots of Holistic shows and Events all around Va,Md,NC,SC,NJ,Pa,and for the first time I'm going to Maine to attend the Natural Living Expo.
Mind Body Spirit  events ,Treasures of the Earth Gem show 3 locations,Convention Center Va Beach July and Oct 12-14 ,Pathways,Roanoke Unity Church MBS.show,,One tribe fest,The Illuminate Shows .Frederick,Annapolis,MyrtleBeach,SC,OceanCity Md.,Holistic & Spiritual  Art Expo.T BowdenSpirit Guided Portraits.The Link,PACCHoliday Bazaar Va.Beach Va.Euphoria Pop-Up shows,
,Old Beach Art Market -19th and Cypress -Va.Beach Va.,Shore Drive Farmers Market ,VaBeach Va.
PathwaysNatural Libing Expo3rd year-Sunday Sept 23,2018
Treasures of the Earth Gem Show in Va.Beach ,Va.Oct 12-14 2018
Illuminate Frederick_Oct.20-11am-6
pm Frederick Md.21073
Illuminate Annapolis-Nov 3rd 11am-6pmMaryland.
12th Natural Living Holistic Expo -Marlborough Maine-Nov10-11, 2018
Holiday Sip and Shop-Princess Anne Country Club Friday  Nov.16,2018,1-8
Holiday-Mind Body Spirit Fair .Edgar Cayce -Va Beach Va .Sat.Nov 17,2018
Va Beach Holiday Christmas Market Nov 24-26,2018
Holiday Illuminate Gettysburg Pa.Dec.3 rd.