Welcome to my store
Copyrights since 1989.©️ChristialBalls 
This was established in 1989 in Burbank, California .
Crystal Balls are Handmade w/Love.

 Each Globe is unique, little Crystal cities with meaning and intention.Christial Balls is pronounced as Crystial  Ball.Came as a vision seen up in the Heavens.All 

of the world's finest gemqstones and crystals from around the World.Unified into one Globe.Mysticsl,.Magical and beaming with light,love, and energy.Truth and Purpose and faith that we are all created with the intention to do great positive things in the World.I believe we are all here to learn to love and beleive in ourself that all our dreams can come True..Lets make good choices to benefit and bring more love and positivity to this planet.
The globes are my mother's vision,she was meditating and asking God for an idea ,something fantastic unique and beautiful.God granted her wish ,her prayer was answered .She saw a beautiful Snowglobe in Heaven .Never seen before.Her excitement was over the top.She was thrilled and overwhelmed with this extremely unique Gift.She knew she had to create what she had seen,and that people everywhere will want one .My mom was very creative.She was an inventor ,she made many things in her life but this one was super special ,and of course she did it .Manifesting every detail of her vision.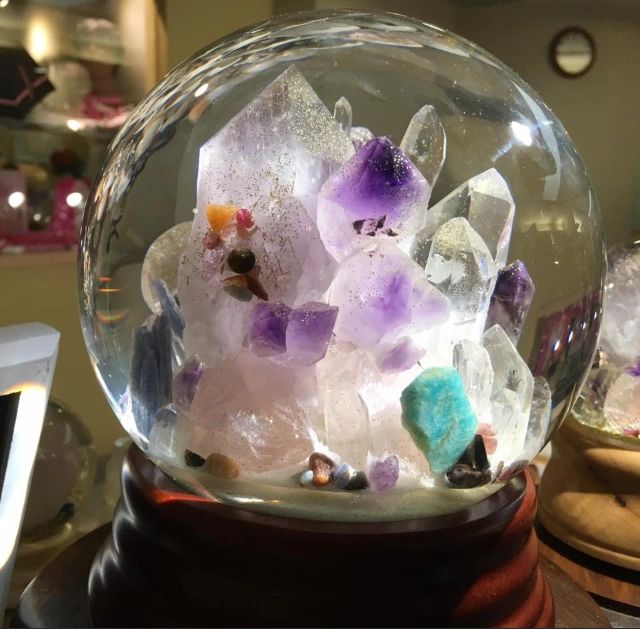 Courtz Crystals LLC copyrights Christial Balls were Established quickly,she knew this would be an idea that needed protection.So being a thorough person she did that as well on her own.We are the first and the only to create these magical globes.My sisters and my mom and I all worked together to make them.We sold to everyone in S.Calif.Every crystal shop and many gift shops had these in their stores.People still want them and with enough production coming soon their will be globes for everyone.The globes were once on tv ,Buffy the Vampire Slayerand a couple of other shows used them too.We also had many well known actors who bought the globes,and loved the idea.Unknown to us crystals had healing energies and  they are for good luck.Everyone wanted one,Jus like she said they would,as the business grew people were astounded because they were so unique and made perfect sense .To this very day the reaction from the public is that they have never seen this before and how creative and magical they are,bringing joy and putting a smile on their faces,our very own crystal ball to assist in Creating the perfect Little crystal city.Create your own Balance and harmony.Mind ,Body ,Spirit ,wellness.Looking on the inside of the globe and seeing the magical gems ,is like meditating within.The better stronger you can be the better the world will be.Peace prosperity and Harmony.Positive manifestation,I promote what my mom tried to teach us that we don't have to copy others because we all have our own God given talents and never give up on seeking the goodness in the world.Health and Wealth and Abundance.Never give up on finding the Joy in life.