X -large The Garden of Love and Prosperity.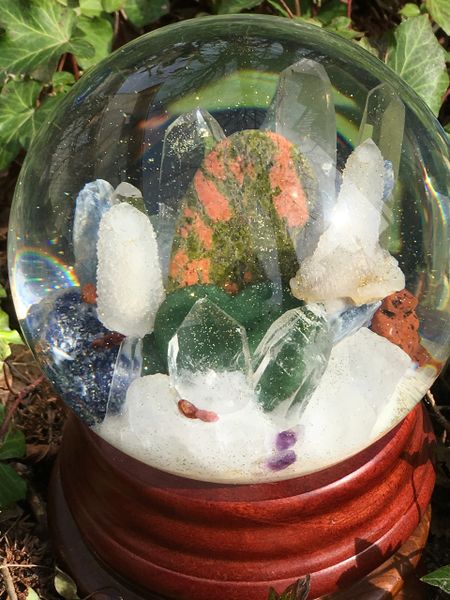 X -large The Garden of Love and Prosperity.
One of my favorite's! A lot of green stones and natural crystals. Beautiful Jade heart 💚 right in the center making this your focus when looking at your crystal water ball. The green and pink is unakite which came from S.Africa, and USA it's Va.state stone. Some shaman believe if a soon to be mother carried this stone with her, it will bring a healthy pregnancy, as well as stabilize her emotions. It is also good for vision. One who may be attracted to this stone, would be someone who may have eye issues and should meditate upon the stone and focus on clearing your vision. Sodalite Blue, is known as "A Teachers stone"excellent for creating unity and and strong communication. New jade circle brings good life and Prosperity. Best of all, is the "Spirit Quartz" from S.Africa. This would make a great, one of a kind gift for that someone special in your life, or to treat yourself to an amazing treasure for your home or office. Order one today!
Reviews